Tattoo Information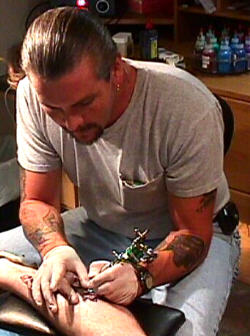 Artist pictured - Terry Carpenter....


We have one tattoo artist on staff and one apprentice.
We offer fineline, tribal, celtic, blackwork, cover ups, reworking and custom. We have one of the largest selections of flash (tattoo designs) in the area, but we are also able to custom draw designs from scratch, or adapt a picture you already have.
Privacy is available for private tattoos, or the timid!
We are very aware of the potential of disease transmission during the tattoo procedure and do our utmost to use universal precautions to prevent this happening. We use needles only once and all equipment is sterilized before use.
We use Starbrite Inks which we have found to be very bright and long lasting. They flow very easily into the skin and we have found that reactions to red are minimal in this brand of inks.